Earth Activities
Franck'y Franck 4X4 Tour
During a 4 hours tour, discover the history, the flora and all the specificities of Moorea.
I will share with you a passion of ten years during a ride animated by beautiful points of views, histories, informations, everything in a relaxed and smiling atmosphere.Within these 4 hours, we will visit the Cook's Bay and also a vanilla plantation located in the Tropical Garden above the Opunohu Bay. We will also taste the home-made  marmelades then I will give you a ride to the pineapple fields after that we will stop for tasting all the products (alcohols/liquors) made in the distillery of Moorea called Manutea. As a special highlight, we will also visit the Magic Mountain and its amazing viewpoint overlooking the lagoon.
(+689) 87 76 40 28
http://www.franckyfranck-mooreatours.com
TOP Quad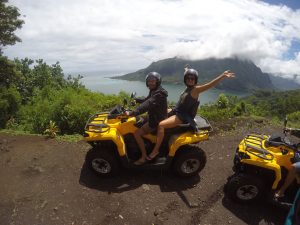 – Visit of pineapple fields
– Visit of the agricultural high school plantations
– Tasting of local products
– Belvedere Discovery
– Ascension of the magic mountain, 360° view
Tours :  3h30  – Cost : 20 000 xfp/vehicle (1 or 2 people)   Car license required for Quad/ATV
+689 87 73 63 83
Tiki Parc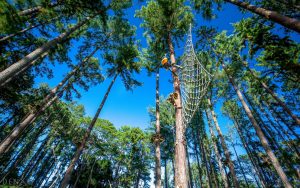 Hiking Moorea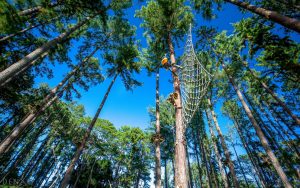 Ride by electric bike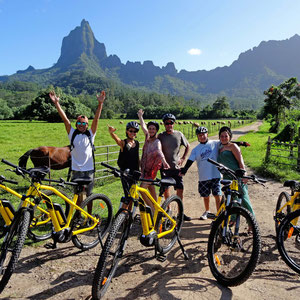 Floating on the air between the trees, it is possible and family is even better. Tiki Mo'orea Park is open from Monday, July 4, 2016. This is the opportunity to spend a unique moment in the middle of lush vegetation on the sister island. A ropes course allows you to test your balance and agility while remaining safe. You just need to be guided by instructors on site.
(+689) 89 40 00 398
email : tikiparcmoorea@gmail.com
Discover the island of Moorea in an authentic way…
Let yourself be transported to the magical places of Moorea by Electric Bike
Don't be exhausted by bike and enjoy your holidays, it's possible with EBike Moorea !
 From 8 to 88 years, everyone can ride this means of transport 
Trendy, Fun and easy to ride !
Electric Bikes will allow you to make an island tour of Moorea (62KM), explore the riches of Opunohu Bay (Belvedere Lookout, Pineapple plantations, Polynesian temples, Old trees, Mountain bike trails…)
And enjoy new places inaccessible until now. 
All places are accessible in Electric Bike !
EBike Moorea offers rental & guided tours in Electric Bike
Delivery directly to your accommodation !
+689 89 355 636