Unusual Activities
Skydive Moorea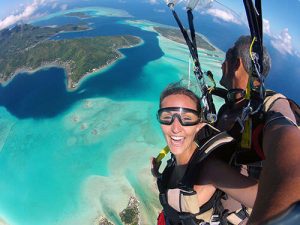 Parasailling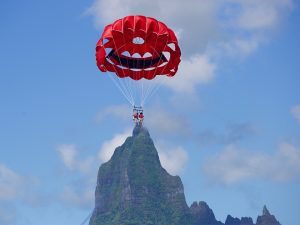 Extreme sensations !!
Are you up for a mind-blowing experience in the heart of an amazing landscape ? Do you want to offer a very special gift available for a whole year ?!
Experience the thrill of free fall with Skydive Tahiti and our professional skydiving instructors (who have BEES French Federation professional sports degrees and professional skydiving license from the french civil aviation authority).
(+689) 87 33 97 23.   /.  http://www.skydive-tahiti.com
Admire Moorea from the sky !!
We will have you discover a unique activity on the island, the nautical parasailing sport !
Holders of a State Diploma in nautical parasailing and towed devices sport activities, we are two Polynesian persons originating from the marvelous island of Moorea…We will help you discover our paradise from a totally different angle.
The turquoise blue lagoon is renowned for its rich animal and vegetal wild life.
So sit back, take off and let your eyes fill with mother nature's show.
+689 87 312 292.  /.  contact@mooreaparasailing.com   /.  www.mooreaparasailing.com